Easter Vestry Elections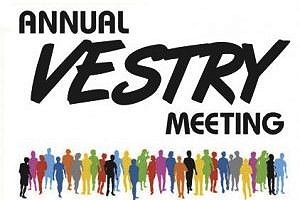 The annual Easter Vestry is held once a year. At the Annual Easter Vestry parishioners vote new members on to the Select Vestry who will serve for one
year. Select Vestry members are responsible for the Finance, Fixtures and Fittings of all church property. The Easter Vestry also elects the People's
Churchwarden, People's Glebewarden, Supplemental Glebewarden. The Rector appoints Churchwarden, Glebewarden and Supplemental
Glebewarden. The Rector gives a report on the parish over the past year and his hopes for the incoming year. The treasurer also gives a report on the financial position on the parish. All the organisations belonging to the parish give a short report highlighting the preceding year as appropriate.
We encourage all parishioners to attend the Easter General meeting as this is parishioners opportunity to elect the Select Vestry for 2018 to listen to the annual reports and to voice their views and opinions.
Perhaps you would like to be on the Vestry? Any Parishioner who wants to be on the Vestry or vote at the Easter Vestry must have their name on the List of Registered Vestry Persons as required by the Church of Ireland constitution.
Anyone over the age of 18 years who is resident in the parish, or an accustomed member (that is, living outside the parish who attends and pays into the Freewill Offering) is entitled to be included on the list, after signing the appropriate forms. These forms are available at the back of the Church or the Parish Office but you must have them filled in and returned to the Parish Office before the Easter General Meeting. All parishioners are welcome and encouraged to come along to the Annual Easter Vestry but remember only those on the List of Registered Vestry Persons can stand for election or vote.